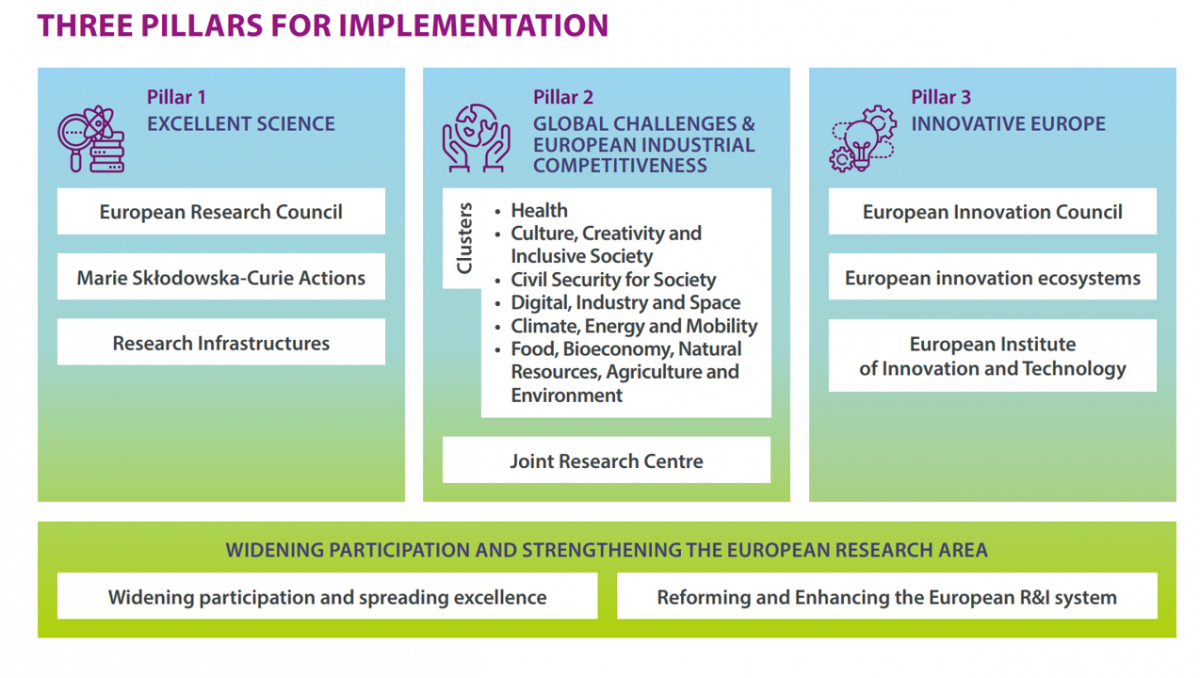 Horizon Europe is the new 7-year European Union scientific research programme by the European Commission. With a proposed budget of 100 billion euro, Horizon Europe aims to strengthen the EU's scientific and technological bases and the European Research Area, to boost Europe's innovation capacity, competitiveness and jobs, and to deliver on citizens' priorities and sustain socio-economic model and values.
The new Horizon on three pillars
Horizon Europe will promote excellence and provide valuable support to the best researchers and innovators to drive the systemic changes needed to ensure a green, healthy and resilient Europe:
Excellent Science
This pillar supports researchers through fellowships, exchanges, and funding of the projects defined and driven by researchers themselves. The pillar operates within European Research Council, Marie-Skłodowska-Curie Actions, and Research Infrastructures.
Global Challenges & Industrial Competitiveness
This pillar fosters direct research related to societal challenges around issues that worry us daily, such as health, climate change, clean energy, mobility, security, digital, materials, etc. For that, the Joint Research Centre provides the EU with independent scientific evidence and technical support. Within this pillar and throughout the programme as a whole the industrial leadership is supposed to get prominent.
Innovative Europe
Innovative Europe is a new pillar that aims to make Europe a front runner in market-creating innovation. A new funding body, the European Innovation Council offers a one-stop-shop for high potential and breakthrough technologies and innovative companies. The pillar includes as well the activities of European Innovation Ecosystems and the European Institute of Innovation and Technology.
Widening Participation and Strengthening the European Research Area, the fourth component, support the European Member States in developing their national research and innovation capacities. A special focus is put on encouraging countries that perform lower in research and innovation to succeed in Horizon Europe.
[/fusion_text][fusion_youtube id="https://www.youtube.com/watch?v=g8BQNnX6_kY&feature=emb_logo&ab_channel=EUScience%26Innovation" alignment="center" width="" height="" autoplay="false" api_params="" hide_on_mobile="small-visibility,large-visibility" class="" /][fusion_text columns="" column_min_width="" column_spacing="" rule_style="default" rule_size="" rule_color="" class="" id=""]
Key changes
One of the main novelties in Horizon Europe is the mission-orientation – a set of certain objectives connected with the key societal challenges aimed to be achieved with project portfolios. The missions relevant to a broad range of stakeholders and to citizens should be completed using a bottom-up approach.
There are five mission areas aimed to address some of the world's biggest challenges:
[/fusion_text][fusion_text columns="" column_min_width="" column_spacing="" rule_style="default" rule_size="" rule_color="" class="" id=""]
Horizon Europe Strategy
The areas of funding priorities, partnerships, and missions of Horizon Europe will be set in line with the strategic planning approach and will take the form of a multiannual strategy. The European Commission stresses the importance of planning to remain flexible in order to respond quickly to unexpected crises or substantiated policy demands.
Thus, work has been ongoing on Horizon Europe's Implementation Strategy, which presents the framework for carefully designed rules and effective processes throughout the life cycle of the programme and project. As the European Commission claims the Strategy focusses on the following objectives:
Maximising impacts
Ensuring greater transparency and further simplification
Fostering synergies with other EU spending programmes
Easing access through digital transformation and outreach
[/fusion_text][fusion_text columns="" column_min_width="" column_spacing="" rule_style="default" rule_size="" rule_color="" class="" id=""]
Synergies with other EU programmes
Horizon Europe and the Euratom Programme for Research and Training aim to ensure effective and operational synergies with other future EU programmes and EU measures designed to promote faster dissemination and uptake of research and innovation results at the national and regional level.
[/fusion_text][/fusion_builder_column][/fusion_builder_row][/fusion_builder_container]