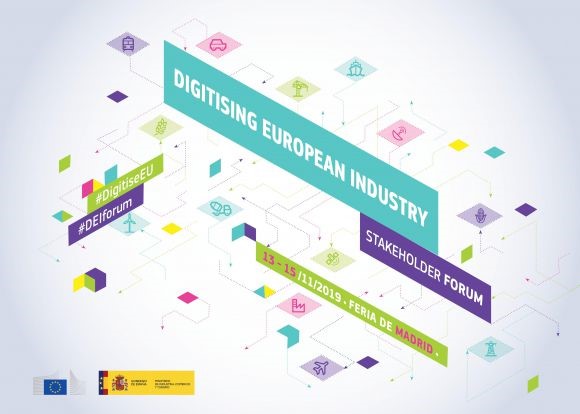 The Stakeholder Forum takes its place from the 13th of November till the 15th of November in Madrid, Spain. This year's event is focusing on Artificial Intelligence and Digital Innovation Hubs for the European industry beyond 2020. The Stakeholder Forum is a yearly key European conference co-organised this year by the Spanish Government and the European Commission and it will be organized on the grounds of "Feria de Madrid". It follows directly the Spanish national event "Industria Conectada 4.0" earlier the same week.
The Stakeholder Forum aims to bring together all the different actors involved in the digital value chain, such as the European Commission, Member States, national initiatives, industry representatives, SMEs, academia and Digital Innovation Hubs to share experiences, exchange best practices and discuss the implementation of the DEI initiative.
Representatives of INTRASOFT International, F6S, IPN and InoSens will be part of the event where they will present the DIATOMIC project and its successful experiments. DIATOMIC is an exclusive network of Digital Innovation Hubs with a goal to bring new microelectronics-enabled products, processes, and business models to life. DIATOMICs purpose it to accelerate product and service innovation through electronic components, sensors, smart objects, and integrated systems in health, agrifood, and manufacturing sectors.
WHAT TO EXPECT
During the first day of the event, there will be held presentations as well as panel discussions on the broad range of the themes in the area of Artifical Intelligence and Digital Innovation Hubs. Some of the speakers will be representatives of Siemens, KraussMaffei, ATOS as well as from the other successful companies from the world.
Following the same manner, Frank Melzer, Head of the Steering Body of the Industry 4.0 Plattform and CTO of Festo AG & Co. KG Rada Rodriguez, President of Orgalim and CEO of Schneider Electric GmbH will open the second day of the conference as two experienced and visionary speakers.
The most important part for the DIATOMIC team is the session called "Digital Innovation Hubs – Success Stories" where will be presented the best results and award the "I4MS Disruptors" and "DIHNET awards". The main idea of the initiatives I4MS (Innovation for Manufacturing SMEs), DIHNET, Smart Anything Everywhere, and others financed under Horizon 2020 is to support SMEs to make the most of digital technologies in many successful experiments, transferring technologies from the labs to the business world under the leadership and with the support of Digital Innovation Hubs.
A discussion about increasing investments to support industry competitiveness through digital technologies is planned for the opening on the 15th of November, where speakers from the European Commission will explain what we can expect from the new programs. At the same time, there will be held two panel discussions about Digital Innovation Hubs in the Digital Europe Programme and Innovative applications of Artificial Intelligence in industry and services.
For more information about this event follow @DigIndEU and #DEIforum on twitter and check the agenda!
See you in Madrid!