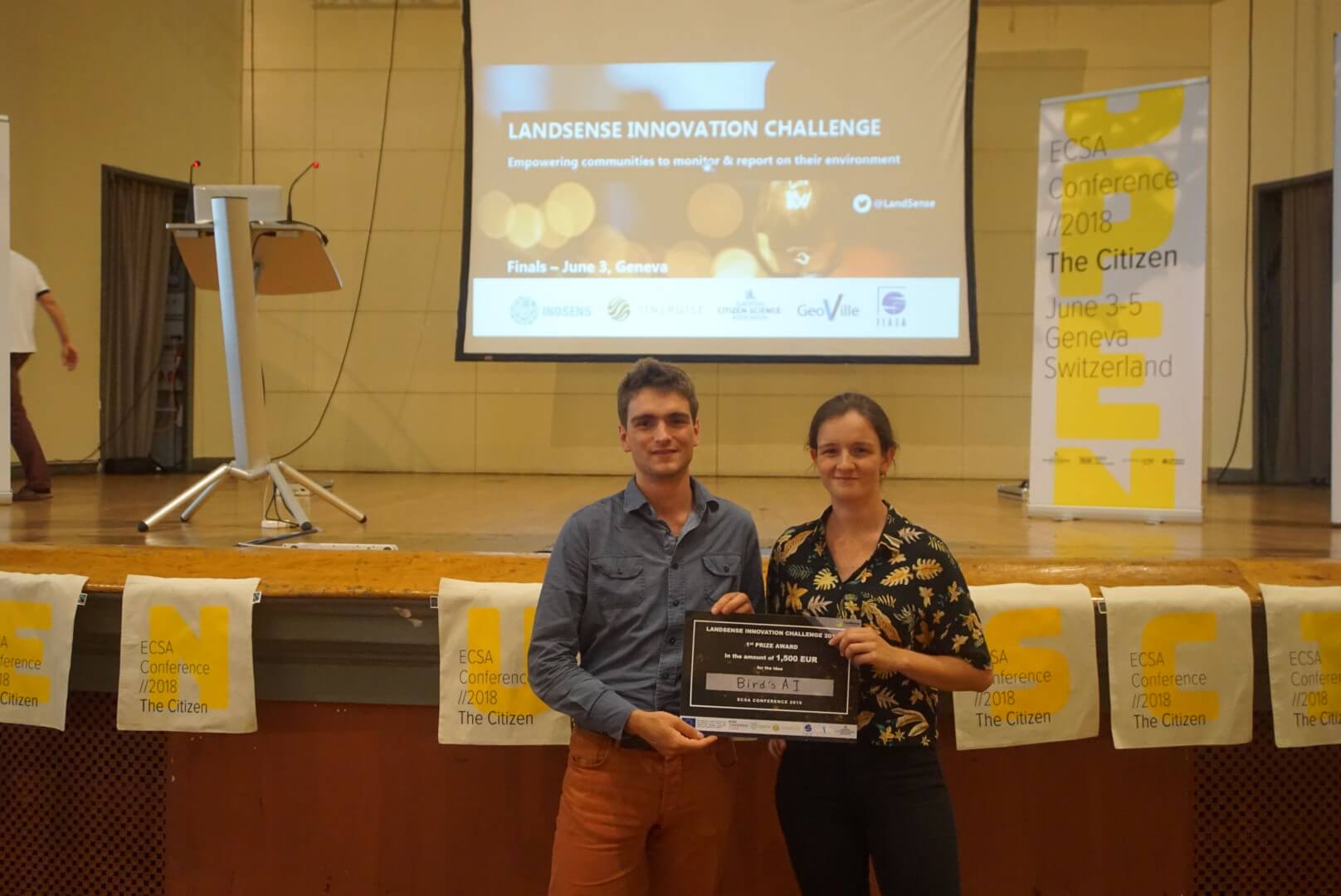 Within the LandSense project, Inosens, Sinergise, IIASA, GeoVille and the European Citizen Science Association (ECSA) held the first LandSense Innovation Challenge held in conjunction with the at the Second International ECSA Conference 2018 from 3-5 June, 2018 in Geneva, Switzerland.
LandSense Citizen Observatory boosting EO industry
The Challenge required participants to use data streams from the LandSense Citizen Observatory, the Sentinel Hub Service, or other relevant Earth Observation (EO) data sources to design novel Land Use and Land Cover solutions for a wide range of applications within the three LandSense themes.
Competition was high as six teams from four European countries presented a variety of novel and ground-breaking ideas for: Monitoring Water levels, Optimizing Bioenergy Potentials, Agricultural Satellite Monitoring, Land Surface Temperature Monitoring, Automated Monitoring of Land Use and Land Cover, and, finally, Change Detection Mapping.
During the Challenge the participants were active in boot camp style sessions led by LandSense partners. Session topics included Sentinel Hub Services, Citizen Science (CS) and idea pitching skills, thereby encouragingcontributions to the EO, CS and investor communities, etc.
Making an effective pitch! Tips and advice from @InoSens_rs. Our innovation challenge is ramping up! #citizenscience #ECSA2018 pic.twitter.com/d4pT4F5pgN

— LandSense (@LandSense) June 3, 2018
Upon the completion of the bootcamp sessions, the teams improved their pitches and sought further coaching from the LandSense partners. Our team was thrilled to see so many ambitious young people with unique perspectives on how they can contribute to the Earth Observation industry!
Evaluation of the idea pitches was very demanding as each team had a strict regime of 5 minutes per pitch with 5 minutes for Q&A. The idea was to give the participants the sense of Venture Capital evaluation process and prepare them for the market. After each unique pitch, the LandSense jury members made sure their line of questioning was thorough and that it pushed the participants to the limits. The LandSense jury still found it very difficult to distinguish one idea that stood above all the rest as each idea possessed its own value, market potential and was very relevant to the domain.
Excellent talk. I've thrown already prepared presentation and made a new one from scratch following @InoSens_rs tips. I like it better. Let's see how it goes. https://t.co/ngS4VQzXrz

— Anze Zupanc (@zpnca) June 3, 2018
There can be only one!
Ultimately it came to a decision that a Dutch team consisting of Rosalie van der Maas and Daniel van der Maas with the idea "Bird'sAI – Automated Monitoring of Land Use and Land Cover" takes the first prize at the first LandSense Innovation Challenge. Team van Der Maas' unique data acquisition, storage infrastructure, and cutting edge artificially intelligent models, enables them to offer automated land use and land cover classification for large scale and long-term monitoring. The winning team receives a 1 year subscription to Sentinel Hub Enterprise, worth 5,000 EUR, provided by Sinergise, online business coaching and mentorship services provided by InoSens and a grand prize of 1,500 EUR. LandSense is very keen to continue this collaboration with Bird'sAI in the upcoming months!
Ecosystem Building and the Future LandSense Innovation Challenge
Finally, the event was a great ecosystem building activity for the project and an ideal opportunity for all the participants to network and exchange ideas with scientists, practitioners and other key stakeholders in order to boost citizen science in the environmental monitoring context.
LandSense innovation challenge at #ECSA2018 with @mhaklay. Exploring how #citizenscience and #EarthObservation can work together. @UCL_ExCiteS @EuCitSci @InoSens_rs @sentinel_hub @IIASAVienna pic.twitter.com/5Y22SBcxul

— LandSense (@LandSense) June 3, 2018
The LandSense team is planning another Innovation Challenge. For all interested parties, please sign up to the LandSense Newsletter at the bottom of the following link.
InoSens would also like to express deep gratitude to the organizers of ECSA Conference and the LandSense partners who helped this event run smoothly.