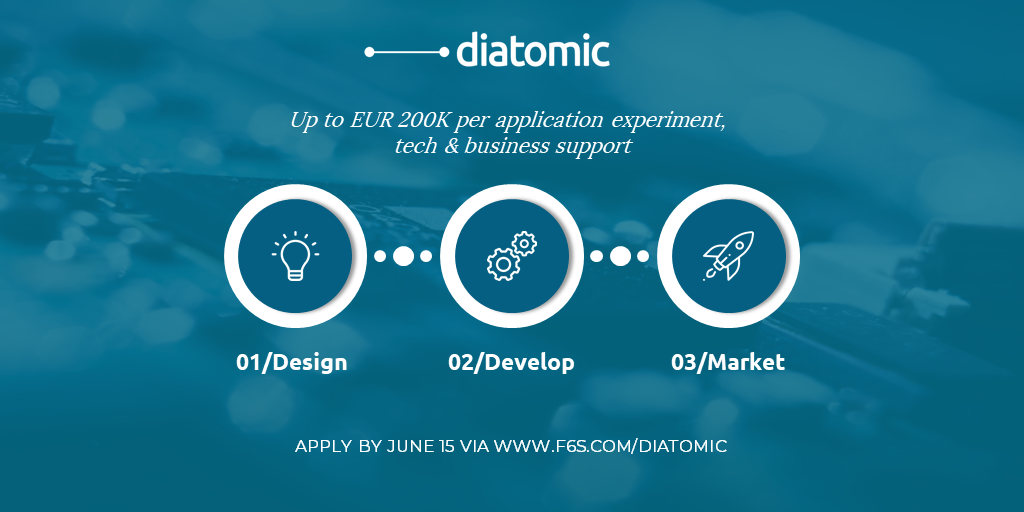 DIATOMIC, a network of digital innovation hubs funded under the European Commission's Smart Anything Everywhere Initiative, is distributing EUR 1.5M to European startups, as well as, SMEs/midcaps and Competence Centers. The call for application experiments is open from 15 March to 15 June.
DIATOMIC call for application experiments: who can apply and how?
DIATOMIC invites small consortia to design, develop, experiment and market innovative applications, which will facilitate the take-up of electronic components, sensors, smart objects and systems in the health, agrifood and manufacturing sectors.

Consortia should consist of 2 to 3 partners, from the EU and associated countries, and should bring together tech adopters (i.e. startups/SMEs who want to digitize their products or bring new products in), and Competence centres who can support startups/SMEs throughout their experiments.
Microelectronics components and smart system integration are considered as essential parts of the proposed technological concepts, starting from a Technology Readiness Level (TRL) of 3. Applicant consortia may use DIATOMIC technological offerings, or any other. In addition, consortia are requested to provide an initial exploitation plan for their experiments. Target sectors: eHealth, agrifood, and Industry 4.0. The budget per experiment may vary from €70.000 to €200.000,
Competence Centers can sign up for DIATOMIC one-stop shop platform – which enables them to offer their services through one of our innovation hubs and subsequently matchmake with startups/SMEs. Additionally, for the purposes of consortium building, startups/SMEs can refer to DIATOMIC helpdesk on F6S to request matchmaking support from DIATOMIC.
DIATOMIC Design, Develop, Market: What's in it for you?
Following evaluation and selection, each application experiment will enter an intensive acceleration program, called Design-Develop-Market. DIATOMIC pulls together resources and expertise from each Digital Innovation Hub, offering a comprehensive service package: advanced testbed and experimentation facilities, needs-based business and matchmaking services, and much more.
Visit https://www.f6s.com/diatomicopencall1 to apply. More information about the application process can be found here: https://diatomic.eu/index.php/open-calls/.